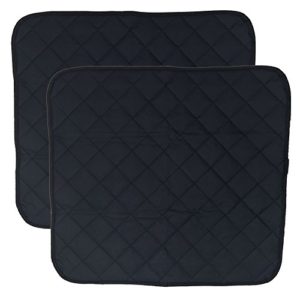 Product Features
Our waterproof seat protectors are made of durable polyester pongee with waterproof backing ideal for keeping any surface dry and stain free.
A comfortable polyester pongee surface, absorbent in layer and non-slip back will ensure the utmost advantages.
Ideal for adults with incontinence needs, young children and pets. Keeping clean and tidy. Dimensions: 22 x 21 inches.
Portable and easily use on any surface. Ex: Wheelchairs, Furniture, Car Seats, Airplane seats, Train Seats, Scooters etc.
Can withstand up to 300 washes. Machine washable and dryer friendly.
(as of 08/11/2022 09:25 UTC -
Details
)
Product Description
LUXEHOME waterproof seat protectors are made of durable eco-friendly polyester pongee protect your car seat, chairs, house, etc from dirt and spills.
Weatherproof material holds all dirt and moisture on the cover, perfect for dogs, kids or transporting goods. The multi-purpose can meet you all d

Customer Reviews